Insectivorous plants have captured the imagination of humans since their discovery. However, a mystery remains as to their diet and, by extension, their name. Are they just invertebrate-eating plants with a few accidental bonuses when clumsy little mammals fall into their traps?
Or have they developed specially designed strategies allowing them to attract and ingest vertebrate animals?
These questions are not only part of the existential questions of individuals who love crazy philosophies. They have also been studied by researchers such as those affiliated with the University of Toronto including Patrick Moldowan doing his PhD on the study of the salamanders that inhabit Algonquin Provincial Park in Ontario. Samantha Semenuk of the University of Guelph is a student who participated in this study and was particularly interested in the relationship between carnivorous plants such as Sarracenia Purpurea and salamanders.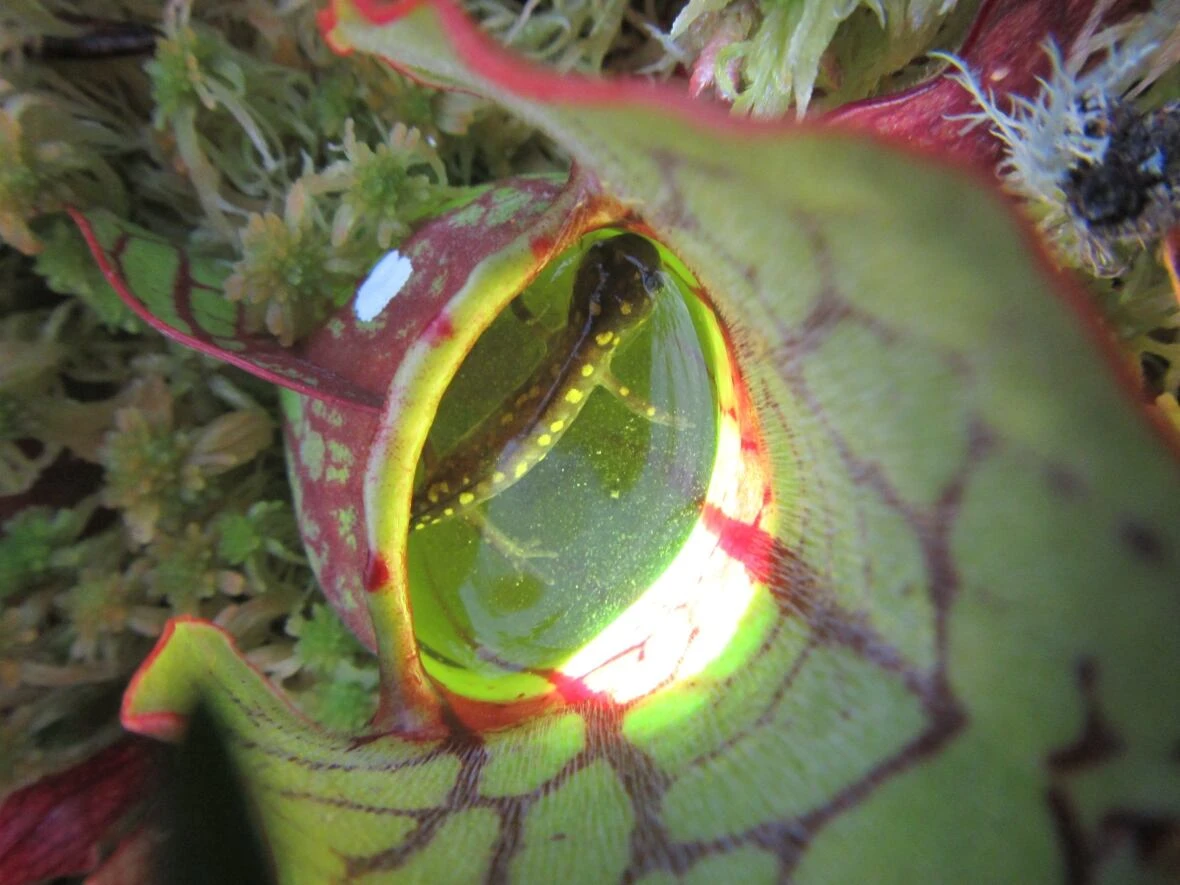 The latter are the most impressive native carnivorous plants present in the majority of peatlands in Canada, in terms of their size and their predation strategies.
The research team expected to find mostly a wide variety of insects and spiders but were surprised by the fact that juvenile salamanders were present in more than 25% of the sarracenia pitchers. These amphibians could measure up to 8 centimeters, which is a non-negligible supply of nutrients for plants.
It is important to remember that carnivorous plants use their traps to absorb nutrients that are absent in the soil of their habitats but which are nevertheless necessary for their development. Nitrogen is also the most important molecule for the growth of plants, which normally capture this molecule via their roots. It is thus thanks to the prey that the carnivorous plants will capture that the latter will be able to supplement their supply of nutrients if they do not obtain them from the soil in which they live.
This is how once again the term carnivorous plant takes on its full meaning.
So be careful during your next getaways near wetlands ;)!
For more information about the research project on the relationship between carnivorous plants and salamanders, here is Samantha Semenuk's website.
Tags:
carnivorous plant
You may also like this